The Key to success is… You have to buy my Chair… ????

PewDiePie – 1989 to infinity
Hello Pewds, welcome to the greatest chair review of all time. In this article, we will be taking a nice look at this greatest chair of all time that is only for the great price of $399.
Is PewDiePie Chair Really Worth $399? that's what we will be looking at in this review.
Update: In Celebration of Pewdiepie hitting 100 million subscribers on Youtube. They have launched a newer version (limited edition chair) of this chair named "Pewdiepie LED 100M Edition". Starting from $469.99 (Click here to check updated price on Clutch's official website).
Back to the PewDiePie Chair Review, this chair is finely engineered. (Because this chair is designed by Pewdiepie himself) and so meticulously crafted. (Built for everyone and Pewdiepie gave his ideas of what he would like in a chair). So that it alone can be worthy of the legendary seal of the PewDiePie's Brofist.
Unboxing and Assembly
Just like all other dedicated
gaming chairs
, you will get this chair in pieces, which means you have to put it together.
There's only one problem though, the assembly instructions or you can say user manual with this chair are in Japenese. (not sure about others but the manual I've got with this chair were in Japenese).
Well, you can read Assembly Instructions in English here on Clutch's official website.


At first, I wasn't sure how long it's gonna take me to put it together but this Pewdiepie chair did not take long at all it was pretty self-explanatory and this one was about 30 minutes.
Luckily everything was lightweight, so you would not face any trouble assembling this by yourself. The best part is unlike other gaming chairs you won't require any special tools or someone's help to assemble this chair. (You can do this, all by yourself).
When I was done assembling this chair, my brother was like "have you finished assembling it? (with a weird face impression)" but he was very impressed at how fast I put it together.
Functionality
This Pewdiepie gaming chair has these following features:
The base is made of forged aluminum which supports over 2000 lbs.
4D armrests, enabling the ability to adjust the height, depth, side-to-side, and rotation movement.
The tubular steel frame has been ergonomically designed to fit any human body's shape.
The bottom casters are coated with polyurethane that offers smooth operation.
A free headrest and lumbar support cushions included.
One of the most iconic features is the "but can you do this?" meaning you can adjust the angle from 85-135 degrees.
Base
If we talk about the base of this chair, this chair has a wide base meaning it establishes strength, support, and balance. The base of the Pewdiepie Chair is 70cm wide and is made of forged aluminum which means it can support over 2000 lbs (this chair has undergone various testings and experiments before the launch to back up its claims).
And now, the castors used in this chair aren't standard castors, they have used castors with a polyurethane coating. If you are someone who loves to move around on your chair without imprinting marks on your floor or want to move around making less sound, smoothly and quietly, then this chair is for you.
Armrests
Sometimes, you may have experienced that after playing games for even 2 hours sitting on your normal chair. Have you ever noticed marks all over your forearm?
It's because the Armrest used in most of the normal chairs even most of the gaming chairs aren't customizable. Meaning you can not adjust it at your preferred position.
But Pewdiepie chair comes with the armrest you can adjust in four positions, you can also adjust the height of the armrest my moving it up and down.
You can also move them forward or backward depending on your preferred position. Furthermore, you can also rotate them up to 10 degrees. The armrests have enough room for you to loosen up your arms, lay back and relax.
Height And Angle Adjustments
If you are someone who sits more than 6 hours every single day on your computer desk. Then you may have experienced neck pain, pain in shoulders and back?
Well, you can also adjust the tilt of the chair to relieve pressure or stress.
Same for the height, the height can also be adjusted, so doesn't matter if your computer desk is too high or low. You can adjust the height of your chair to your preferred position. This chair also has a Lock-in feature, meaning whenever you find the right adjustment you can lock it.
Frame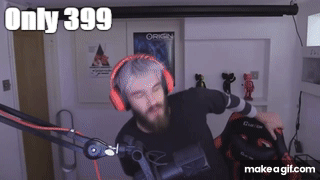 The best thing about this chair is the frame, they have put a lot of effort while designing the frame for this chair. I've reviewed various gaming chairs in the past but I didn't see this type of frame in any chair.
The chair has the capability to recline (but can you do this? xD) 85 degrees up to 135 degrees.
The frame of this chair is covered with memory foam and memory foam is covered with PU leather. These extra layers are also an important reason why this chair is comfortable.
A free headrest and lumbar support cushions included with this chair. To support your neck and lower back in order to avoid tension on your neck and spinal cord.
Conclusion
It may seem expensive to you, but with the quality and comfort, this chair is offering it's worth it. Unlike other gaming chairs, this chair was designed by legend Pewdiepie himself.
As a day to day gamer, he actually knew what features a normal gamer would look for while buying a chair.
This chair is also backed up by a lifetime guarantee.
If you are someone who's troubling finding the perfect size, fit and comfortable chair. Go for this one!
You won't regret buying it.